Since the start in 2005, Optiplan has geared up from a two-person team to a full-fledged SaaS enterprise. Their stable, digital services for publicly funded transport and municipal school selection offer a safe way forward for 87 of Sweden's 290 municipalities. As one of DI's Gazelle companies for three years in a row, in their growth plan they navigate past the bumps in stride.
– Optiplan is based in Norrköping and is very proud to house all our departments under the same roof, begins Maud Waltersson, CEO at Optiplan. You will find the same strong team spirit in all 21 employees. Throughout our company's growth, we have taken care to keep and nurture the soul of the smaller business. We have a flat organizational structure where every voice is heard. Through being responsive, flexible, and fast-paced, we ensure a speedy path from idea to service.
Optiplan's two founders met during studies and laid the groundwork for the business with their co-created optimization algorithm. After scouring the market, they found a suitable application in optimizing the school transport for the municipality of Norrköping. The municipality was just about to procure new vehicles and jumped at the opportunity to better calculate the numbers needed.
– First out to try the algorithm was Kolmården and this resulted in reducing the number of vehicles by one bus, says Maud. A supplier contract can run for 6–8 years, so all in all, it meant a cost saving of approx. SEK 800,000/year.
With this outcome, Optiplan was given the task of optimizing the school transport for the entire Norrköping municipality. The handling was digitized from application to authorization, creating a powerful means for school bus permissions, student onboarding and offboarding and route planning.
– Optiplan's next customer was Linköping municipality. With this second deal, we consolidated our cutting-edge knowledge in optimizing vehicle capacity with a focus on school transport.
Smart, safe, and scalable
With a growing customer base, they have been able to optimize their offer based on the extensive regulations that revolve around the field of school transport; the school act, the municipal act, and other frameworks that can vary from municipality to municipality.
In 2017, Optiplan was asked to digitize the school selection process for one of its existing customers as their manual administration had become increasingly difficult.
– The new service Optiplan School Selection offered, in addition to a fair distribution of available spots, full traceability throughout the entire school selection process.
In Optiplan's portfolio there is also a fairly new addition, the service for tour-bound travel. It offers a digital application for travels within the framework of LSS, the Act concerning Support and Service for Persons with Certain Functional Impairments.
– With Optiplan Tour-bound Travel, the focus has been to create an IT system that provides an efficient and digital ordering process for tour-bound travel.
Throughout their growth process, Optiplan has been in close contact with Almi Business Partner. It was also through this contact, they were made aware of the opportunity to join Swedish Scaleups.
– The accelerator program offers a valuable push forward. It is also an excellent opportunity to expand your networks and gather inspiration and strength from other businesses in the program, says Maud and continues: Since all coaches are entrepreneurs, there is always someone to bounce ideas off. The coaches may not have made the same choices as you have but will offer valuable support at a crossroads.
Swedish Scaleups, supports and speeds up your business
Maud feels that the Swedish Scaleups administration is good at matching companies and coaches. Growing a business is challenging and at times hardening, and the coaches offer both great responsiveness and support throughout the process.
– Our company values are security, innovation, and quality. As a young company, it is easy to say yes to every opportunity, and this in turn can create a flaky product or service. To create clarity in our own workflows we are instead planning the business direction we see fit, based on the defined customer needs. An important lesson learned is to dare to say no to offers that doesn't drive towards your vision. This is how we safeguard our customers' true needs and use that input to create sustainable and reliable services.
With 87 of Sweden's 290 municipalities, Optiplan is the market leader. But the market is also limited to Sweden's municipalities. Participation in the accelerator program has offered theoretical knowledge, a stable support system and a network of new contacts to find effective ways to grow.
– In our continuous work with internationalization and talent attraction, we are looking into the possibility of expanding the business outside of Sweden, says Maud and emphasizes that the program offered a good balance between guidance, your own effort, and an expanded contact list. Above all, I take with me the lessons learned and valuable contacts that came from meeting other companies through Swedish Scaleup's network. The study group has parted, but we will continue our exchange.
In 2018, Optiplan received the keys to a new office. By then they had grown out of their previous premises, and that marked a milestone for the business. In 2022, it was time to move again to their current office on S:t Persgatan in central Norrköping.
– Despite the pandemic and its impact on the business world, the company has continued to grow strong, says Maud and concludes: At Optiplan, we grow in unison, with a strong commitment and joint responsibility for our community-supporting missions. The pace is often high, but we make room for reflection and celebrate our success – we are on this journey together.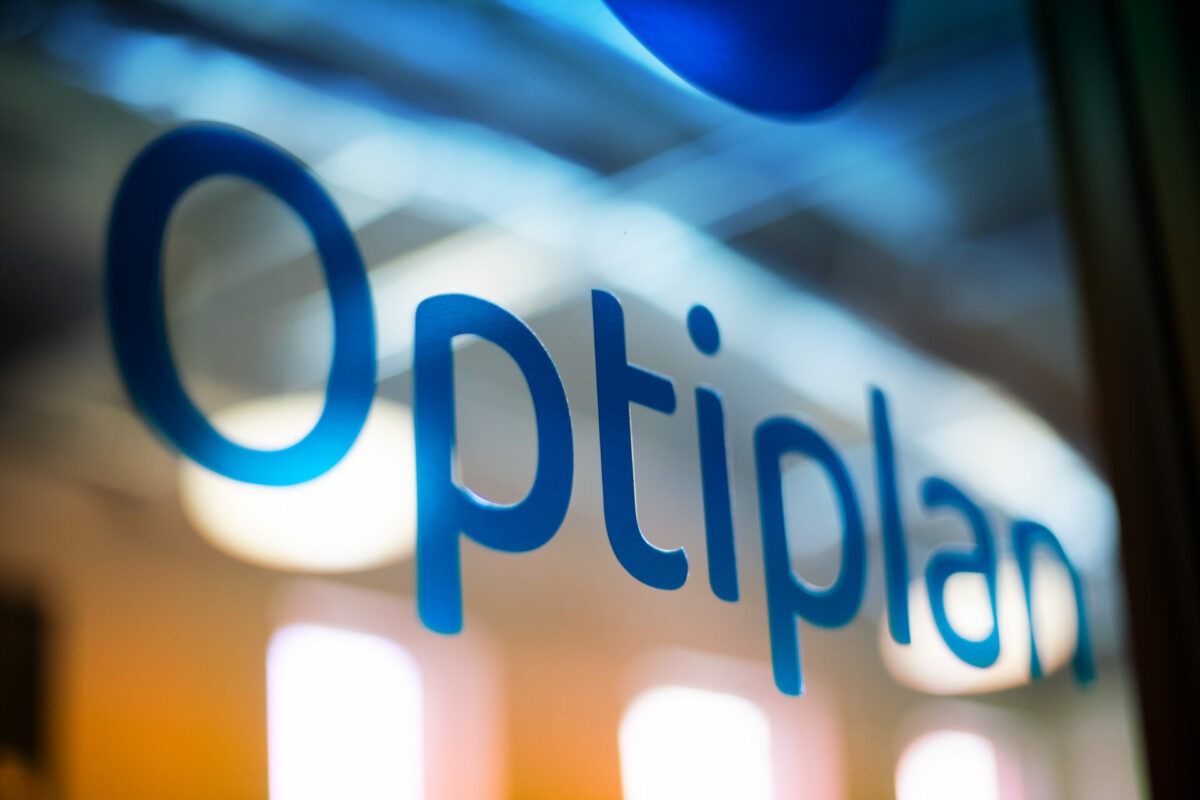 Quick questions for Optiplan
What are your main drivers?
– The combination of creativity and security. We feel a strong responsibility for our contribution to a sustainable social development. By creating innovative IT systems for school transports, school selection and tour-bound travel, we create a safe and secure foundation for the municipalities and residents of today and tomorrow.
What impression will Optiplan make?
– Algorithms for social benefit! Optiplan simplifies the complexities of school transport, school selection and tour-bound travel. By creating traceable, highly secure, and sustainable digital services, we simplify the entire process for all stakeholders.
Thoughts on Norrköping and East Sweden?
– Norrköping city has had a very positive development. From a distinct industrial city to a vibrant hub for IT companies that sees close collaboration between businesses, universities, and science parks. There is a forward-thinking gist throughout the municipality. The proximity to Linköping, with its large university and Linköping Science Park, and the commuting opportunity to Stockholm also adds energy and drive to the region's entrepreneurship.
Facts Optiplan
Product: Cloud-based software service for community paid travel and school planning. Consultancy and training in optimization and procurement within the company expertise.
Founded: 2005
Turnover: 31,5 Million, 2022
Growth: 25% yearly
Location: Norrköping