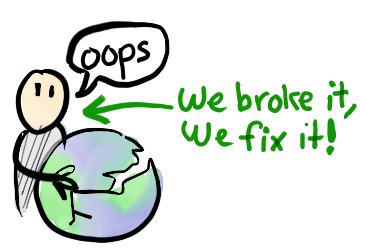 Sustainable Science Park: Compensate your carbon footprints or nudge them away
What can I actually, really do about climate change? Well, think of the first rule of holes: "If you are stuck in a hole, stop digging"! Climate Change is the biggest hole in the world and we all need to stop digging right now.
Have a Swedish fika at Creactive with Henrik Kniberg (coach at Mojang, Lego and Spotify and a climate champion) and Nudgely (Winner of Innovation bootcamp Linköping 2018)
Henrik Kniberg is a very popular agile and lean expert. He does coaching and Minecraft development at Mojang, and has previously worked at Lego and Spotify. His passion is, except helping companies succeed with both the technical and human sides of product development, to combat climate change. He created the video Friendly Guide to Climate Change (you can se it on the tigth on this page) and is one of the founders of GoClimateNeutral
Nudgely– the winners of the Swedish Agency for Economic and Regional Growths Innovation Boot Camp Linköping in 2018. Their idea is based on the Nobel Prize-winning concept of "nudging" – a push to affect the desired behavior, which is part of the behavioral economy. Listen and learn how companies can reduce their negative environmental impact by nudging.
Science Park Mjärdevi will also launch a unique concept developed in collaboration with these brilliant minds