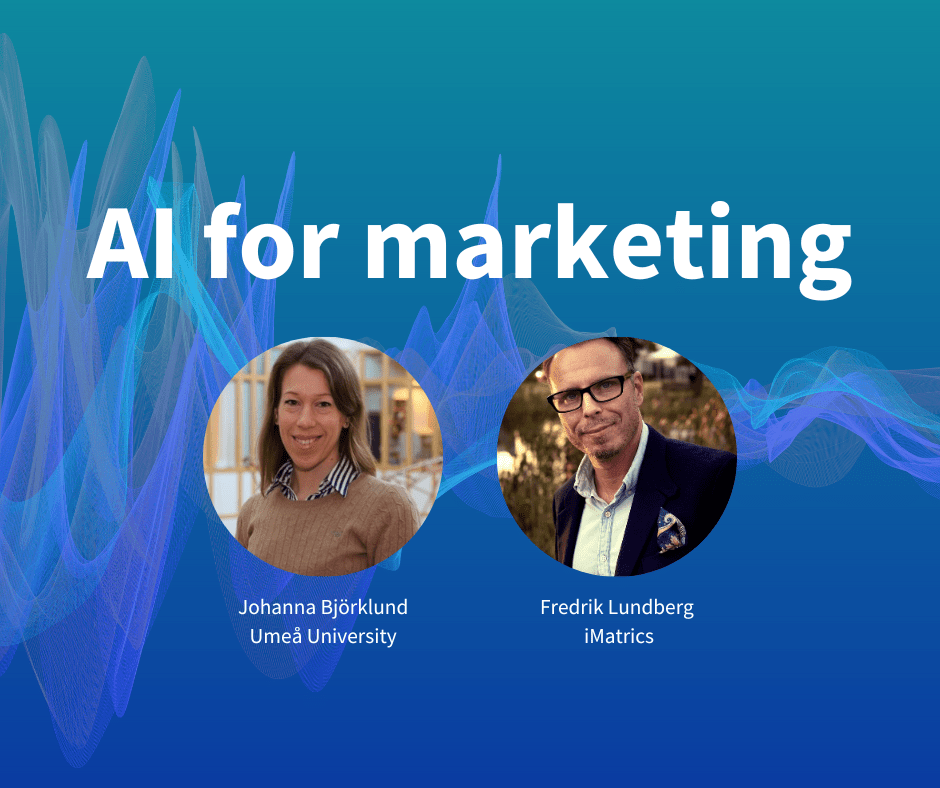 Seminar
AI for marketing
6 December, 08:30-13:00
Goto10, Teknikringen 7 or via Livestream
Sign up is closed
On December 6th, Visual Sweden and AI Sweden invites you a session on what you need to know about using AI for online advertising. We will fill you in on the ethics and the tools!
We've invited Johanna Björklund, Associate Professor, from Umeå University who will teach us about how AI plays a role in personalized online advertising. In this talk, we survey how AI is currently used in online advertising, and then look closer at personalized and contextual advertising. 
We will discuss:
How advertisers reason when they set up their campaigns.

What changes when the AI systems that execute the campaigns become more capable?

What could happen when these techniques are applied to political opinion formation?

On a more positive note, we will also talk about how the negative effects can be mitigated, and how consumers can sometimes use the workings of the advertising AIs to their own advantage. 
Also on this day, we'll get to listen to Fredrik Lundberg, Head of Marketing at iMatrics who has great experience of assisting publishers in utilizing AI tools. He will tell us how AI can serve as a powerful tool for publishers and delve into practical implementations. iMatrics is an international company that helps publishers and media companies worldwide extract and use metadata in their digital business. Don't miss this opportunity to gain valuable insights into the symbiotic relationship between AI and the digital publishing landscape.
There will be time for mingling and something to eat. See this as a great opportunity to learn more about the relationship between advertising, AI, and visualization!
This event will take place at Goto 10 in Linköping, at Teknikringen 7.
You can participate both on-site and online as it will be livestreamed. 
Program
8:30 — 9:00

Drop in with coffe and breakfast sandwich

9:00 — 9:15

Introduction to AI Sweden & Visual Sweden

With Sara Karlsson, AI Sweden and Felicia Lai Jakobsson, Visual Sweden

9:15 — 12:00

Lecture and Seminar with Johanna Björklund and Fredrik Lundberg

12:00 — 13:00

Lunch with time for discussions