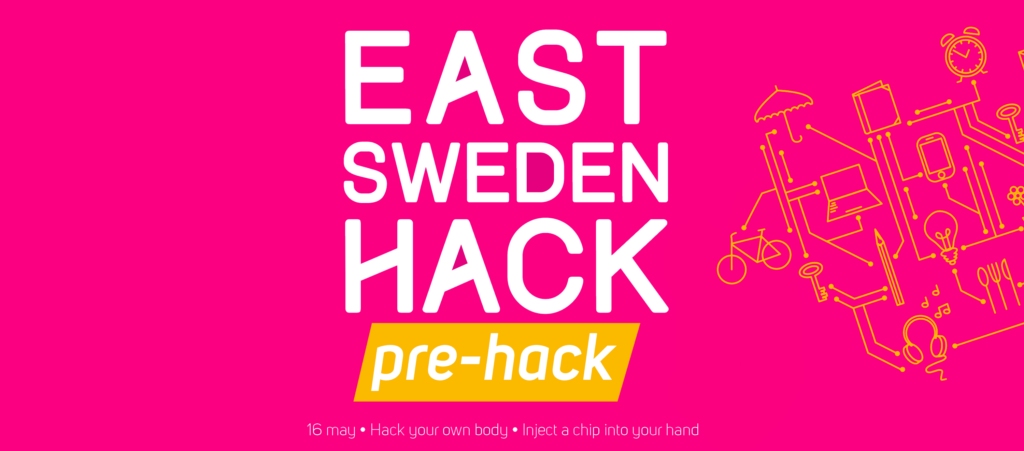 East Sweden Hack: Pre-hack
Hack your own body • Inject a chip into your hand
A challenging night for those who are curious about East Sweden Hack.
Keynot speaker: Hannes Sjöblad – The impact of technology on our bodies.
Hannes work and insights into near- and inbody technology has been internationally recognised by among others Wired, Motherboard, Bloomberg, Business Insider, Frankfurter Allgemeine Zeitung, CNN, BBC, Daily Mail, Le Figaro, Nouvel Observateur, Heise and others.
As a biohacker activist, he works to radically democratize public access to powerful biotechnologies. In this setting, he does not step back from experimenting with technology with his own body, and his vision is of a future where the human body has fundamentally different capabilities than it does today.
Keynot speaker: Fredrik Wallin – We are building next: Norrköping.
First in line in the extensive city transformation of Norrköping is the Inner harbor, which will become a natural part of Norrköping's city center . In the Inner harbor, 2,000 new homes are being planned. The water will be in focus, with the river as well as new channels flowing into the area. The Inner harbor will be built in several stages, starting now. Fredrik Wallin tells about the exciting plans and the city of the future.
Activity
Jowan Österlund Take the chance to inject a chip into your hand

Stefan Holmlid

Inspiring Workshop
Food and (non alcoholic) drinks
Learn more about East Sweden Hack, open data for the hack and and mingle.