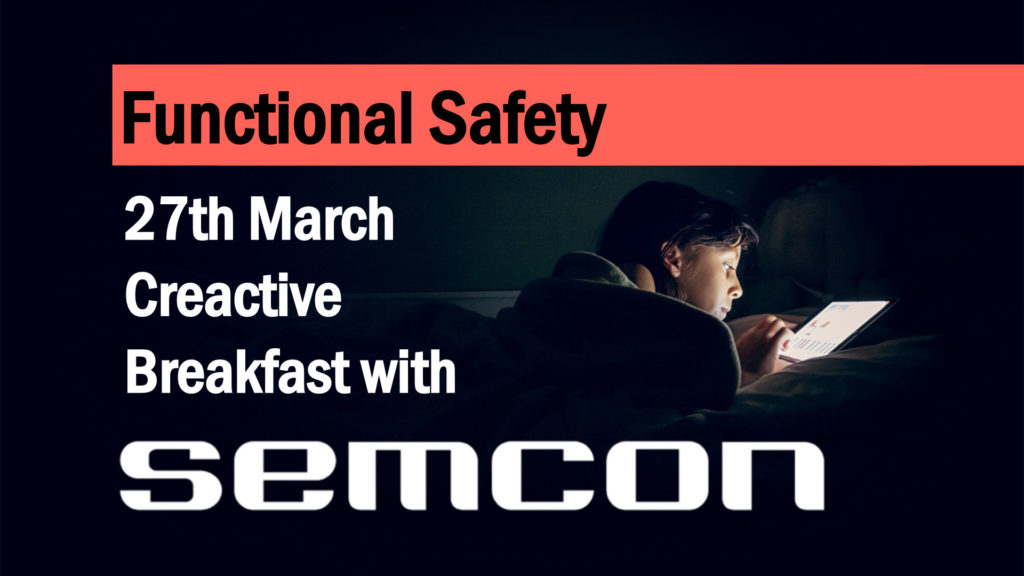 Digital Webinar @ Semcon/IEEE Functional Safety: A Way to Success
Webinar replaces the physical meeting.
Due to the circumstances with the Coronavirus Covid-19 and to avoid meeting personality, Semcon offers the Breakfast Seminar digital.
Sign up on the link, then We will send you a invitation to the meeting in "Teams".
With this, we hope to continue spreeding our knowledge to the ones who's interested, and with our modern tools we can continue our days with helping you with the knowledge to safe your business sucess.
Functional Safety can make a difference between a termination of the project or a success of your product in the international market. Please join me as I share how functional safety can make a difference, the benefits, techniques to use, and some of the problems to be aware of.
Functional Safety
Functional Safety is a subpart of the overall "safety", related to product safety and not to be confused with occupants safety, work safety or cyber-security. Ultimately, it is about avoiding systematic and handling random failures in programmable electrical and electronic systems controlling critical functionalities in automotive vehicles, aircraft, machines, etc. Random failures are unavoidable and caused by environmental effects as cosmic rays, EMI, stresses, etc. Systematic failures are man-made starting from incorrect, incomplete or missing requirements down to incorrect register usage by an embedded program. Functional safety can be achieved only when the whole team seamlessly works using the same compliant processes, from RFQ to SOP, and until the last unit is decommissioned. It is a whole-organization responsibility to do all the work required by relevant safety standards including designing, coding, testing, manufacturing, and working with the customers, users, layers and other stakeholders.
Getting from traditional mechanical system to complex cyber-physical systems is an evolutionary step for many companies in many engineering areas, and accelerates as the time goes with more and more safety-critical functionality controlled by software and hardware, take autonomous vehicles as example. Functional safety can become a difference between failure of the company and a success. If machines or vehicles cause harm to people or damage, it can lead to long-going negative consequences both economical and legal. Authorities stipulate both personal and organizational responsibility in the event of accident caused by electronics in safety-critical systems. With no or lacking evidence of diligence, substantial fines for a company and legal punishment of an engineer are not uncommon. On the other hand, good safety culture, processes for functional safety compliant to international standards and diligence in development can open up excellent and ever growing market opportunities, providing ultimate competitive advantages against the competitors.
Please join me as I share how to start with the functional safety, the benefits, techniques and standards to use, and will highlight some of the problems to be aware of, with examples taken from automotive industry and machinery.
You will learn enough to discuss this out on your own with your team or managers. Along the way we'll answer a lot of the questions you might have including: How do we set functional safety processes? Who should be part of the team? What is the right approach from engineering point of view? How can we work together with functional safety in distributed environments? Any relationship to cyber-security? Why would we want to do this in early project phases e.g. already in RFQ or even RFI? Is it a necessity?
Viacheslav Izosimov from Semcon
Viacheslav Izosimov is local engineer from Östergotland, and along with his project teams worked with Functional Safety at various assignments across Sweden. He's been sharing a way of working with functional safety at conferences and workshops all over the world for the past 10 years. He has helped many teams learn to improve functional safety standing in various work environments, took part in research projects and competitions, acted as ISO expert. Viacheslav holds a Docent degree from KTH Royal Institute of Technology in Machine Design and PhD in Computer Systems from Linköping University. He is certified FuSa Manager and FuSa engineer by TÜV Rheinland, IEEE senior member and AFI officer at IEEE Swedish Section.
This event is hosted by Semcon and IEEE*,**.
* this event is part of event series organized by IEEE Sweden, Society on Social Implications of Technology (SSIT), for details see ieee.se.
** IEEE and its members inspire a global community to innovate for a better tomorrow through its more than 423,000 members in over 160 countries, and its highly cited publications, conferences, technology standards, and professional and educational activities. IEEE is the trusted "voice" for engineering, computing, and technology information around the globe.
Welcome!