Linköping Science Park therefore offers community building as a service. This involves supporting community builders by, for example, training them, arranging experience exchanges, and offering premises and support for marketing and events. At one of their sites, Mjärdevi, roughly 300 events are arranged in one year, attracting some 45,000 visitors.
Thanks to the infrastructure, communities can get a better start and meet across community boundaries. And some-times it's necessary to help by pausing, or closing down, a community so that others may thrive.
One of the many initiatives was East Sweden Tech Girls, which was started by two drivers as a network for people who "identify as women and who work in the IT and tech-nology industries" for the purposes of knowledge-sharing, networking and development. Another aim was to en-courage children to take an interest in technical subjects.
"As always when we get an idea rolling, we start with a workshop to find out if there's a need. Was there a need here? What did the ones who expressed an interest want the network to contain? This meeting showed that there was a definite interest in getting involved."
Everything that was needed for them to get off the ground was there. Then, after just a few meetings, one of the drivers got a new job and the other had a baby.
"We tried to drive the network on but it was all to clear that the firebrands weren't there. It's always the same. A community needs people from the inside to drive it forward. They're the only ones able to engage more people in it. So even though everything else was in place for making this network work, it's now lying dormant waiting for people who really want to take the lead and grow it."
The same thing happened to Jean Zagonel and the network for ex-pat Brazilians. Despite the fact that hund-reds of people could have derived much use and joy from the community, nothing happened when the person who set it up moved, since no one was interested in taking it over. There was no firebrand, no driver.
Firebrand – not employee
Listen, it's OK to drop an idea that doesn't have legs. Or to pause an initiative when the firebrand leaves. Because it's never as simple as replacing this person with an employee. That was exactly what the science park learnt when it came to East Sweden Tech Girls.
"One explanation is that we employees don't have the same credibility or inspire the same trust as a firebrand. No matter how committed we are when we join, we're actually getting paid to care," says Anna Broeders.
Besides, you can't employ people to be passionate about their work, as David Brohede said earlier on. What you can do is create the conditions that inspire people to become fire-brands of their own accord. And if it doesn't work, that's fine.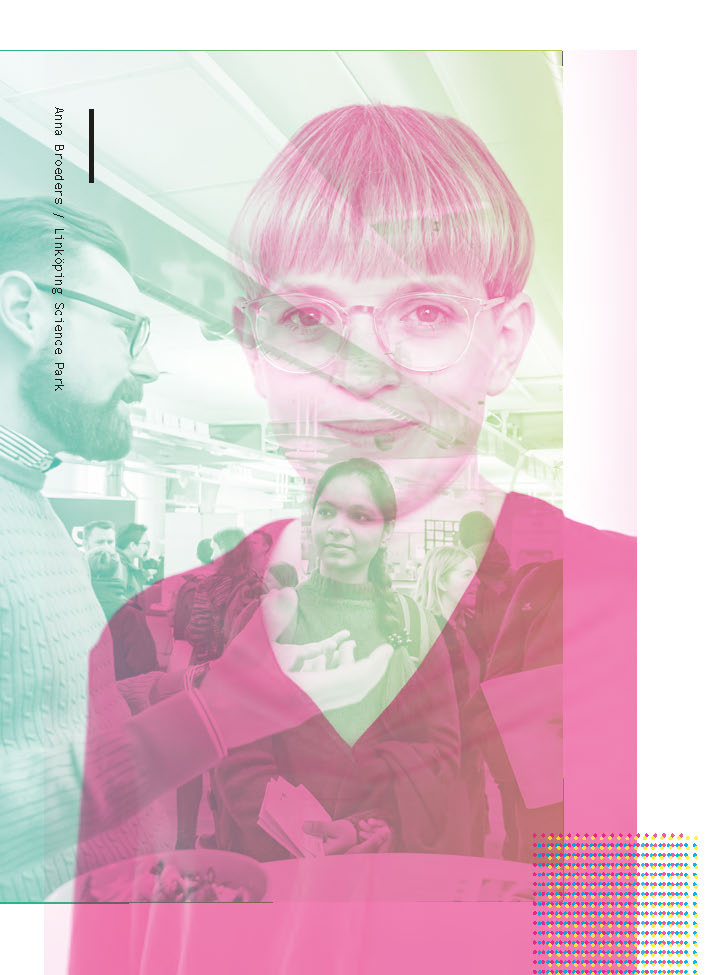 Just active
What constitutes a community? When would you say that you're in one?
Think of the parents selling hotdogs at their kids' matches. They're engaged and always willing to help out. They're there come rain or shine. But despite the sense of togetherness they probably feel with the other parents who are also engaged, would they really say that they're part of a community?
Likewise, university students wouldn't say that they belong to a community. They are just active on the student scene.
And people who fly model planes four times a week do just that – fly model planes with others who also enjoy flying model planes. They probably wouldn't say that they're part of a community either, even though, in practice, they are.
If a football parent stops giving the kids a lift, there are doubtless many others who'd be happy to do so instead. But if the one who calls round to chase up others one day decides not to do so, the whole thing falls to pieces.
Next year there will also be parties and events at Sweden's universities, even though this year's finalists have graduated and moved out. These traditions and communities are so strong that they even survive a sudden turnover of members.
So before you start a community, stop and think for a while. Is there a need for what you want to create? Is there a firebrand? What happens if the current one moves away or gets bored? Would you be prepared to at least temporarily let the community go dormant, or will you fight for it even harder?