Interview with Torbjörn Kvist, Innovation Manager at Saab Aeronautics about IndX
The story of Saab started in 1937 when Svenska Aeroplan Aktiebolaget (Swedish Aeroplane Company Ltd) was founded. Their purpose was to develop and provide the Swedish airforce with aeroplanes. For the coming 80 years, Saab has been on a constant innovation journey, always evolving. We got a chance to talk to Torbjörn Kvist, Innovation Manager at Saab Aeronautics, about Saab's way of working with innovation and how IndX plays in.
– IndX was a bit of a gamble. When we started last year it was a brand new concept and we didn't know who would apply or even if anyone would apply. But you can't renew yourself without making bold calls, and this time it paid off.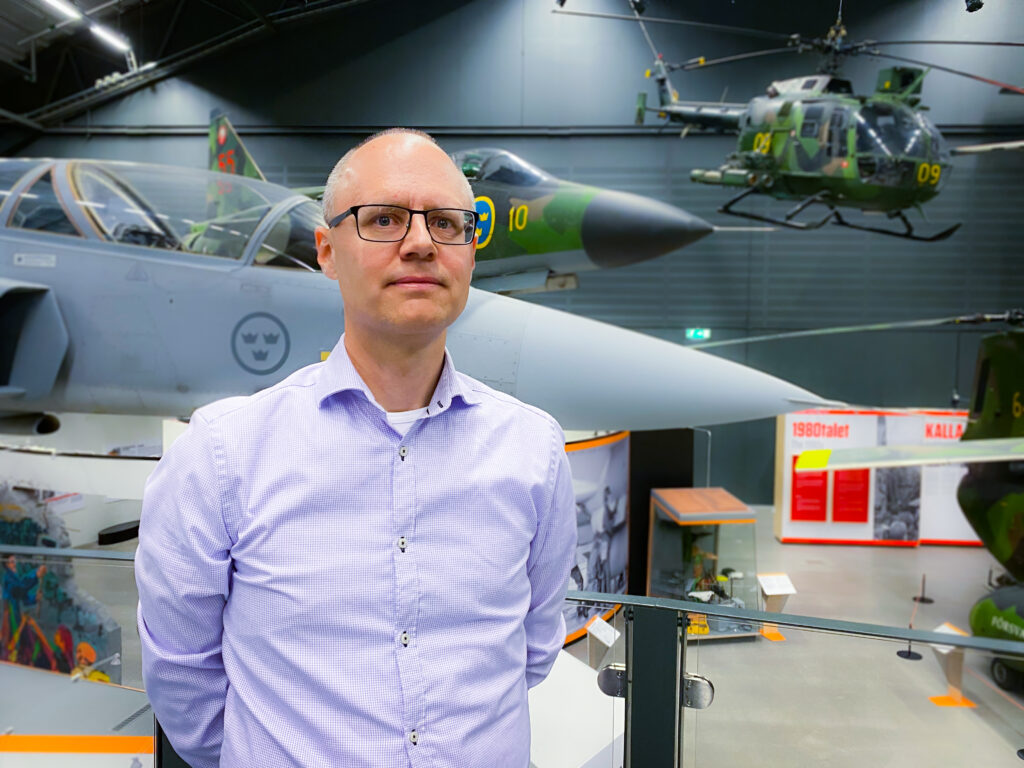 Torbjörn explains how the internal innovation process at Saab makes it easy for all employees to contribute with ideas, get support from innovation coaches or even find time and resources for testing and experimenting. What IndX contributes is bringing new perspectives and fresh eyes from the outside world.
– Taking help from startups does not only mean that we buy a service or product but also a new collaboration that can lead to additional connections, more inspiration and valuable input. All this while also helping a startup to grow.
IndX – addressing the accurate challenges
Over the years Saab has been very active in scouting new startups and participating in matchmaking events to find new collaborations, but Torbjörn feels that IndX still brings something new to the table. What I like about IndX is that it is more direct. We have already communicated our challenges to the startups before they apply which makes the matches way better and the process is much more efficient.
When we speak it has almost been one year since the first IndX process started and Torbjörn looks back on that time as a very exciting period.
– We were off to such an incredible start so I did my best to just go with the flow. Sure, it was stressful but also fun and energetic.
Hope to extend the collaboration
At the end of IndX2020 Saab decided to move forward with two PoC's (proof of concepts) with the startup companies Gleechi and Dyno Robotics. Gleechi demonstrated a virtual training platform that would enable equal and accessible learning and training for all Saab employees worldwide. With Dyno Robotics they worked on a project called "Optimal Route Planning" and is something that has raised great interest within Saab.We are very happy with the results of both projects and the collaboration with the startups. With Dyno Robotics we see that the challenge they help us address is something that exists within several business areas at Saab and the goal is to extend the collaboration and take the PoC to the next step.
Torbjörn describes that there has been great support and interest from the organization for the IndX PoC's.
– In large organizations like ours, things tend to move a bit slower than we would like and we can improve on collaboration between departments and business areas. IndX has opened doors between departments and made us work together and talk to each other in a new way.
What Saab is looking for
The application time for IndX2021 just closed and Torbjörn and his colleagues have worked their way through the applications in the search for the perfect match. Torbjörn shares that the industry foresees a need for technologies within autonomous and connected systems.
– But for me, it's not only about the search for specific technologies. I get a kick from finding that true match between challenge and solution.
Do you want to know what startups that were chosen? We reveal it in this article!