To ensure healthy competition and foster tax fairness among the 22,000 taxi drivers in the state, Revenu Québec is enforcing new tax regulations. TaxiCaller Nordic AB in Linköping is one of the few that has gone through the rigorous process to become one of the go-to sales recording systems in Québec.
Mandatory compliance for all taxi businesses
New tax regulations for the remunerated transport industry will soon come into effect in Québec and all taxi businesses must comply. The new regulations state that every passenger must get a receipt for their trip and that each ride is reported automatically from the used payment software directly to Revenu Québec.
TaxiCaller decided on a 3-part solution. The first was to become an authorized SRS by collecting transaction data from each passenger's trip. The second was to have a cloud-based platform that would automatically store and send each transaction to Revenu Québec. Lastly, TaxiCaller created a system that completely integrates the taxi companies' data with Revenu Québec's informational environment.
"This hasn't been an easy task and I'm not surprised that there are so few systems that have become certified. The testing process by Revenu Québec has been extensive, going through every aspect of the system, and it is a strong quality stamp to be certified. To date, we are the only cloud- and app-based system that has made it all the way, and I am so proud of the team that has come together to make it happen." Eero Piitulainen, co-founder and CEO.
Simplicity is key
The TaxiCaller solution makes a complicated task become easy and automatic. It may sound like a simple thing to develop, but the process has been rigorous with extensive requirements from Revenu Québec and many specification changes along the way.
TaxiCaller decided to go through this process to keep existing customers, gain brand awareness and market share in Canada, and make it as easy as possible for taxi companies to comply. Since all taxi companies in Québec must comply by November, TaxiCaller has already started reaching out to them and offers a seamless transition into compliance with a great dispatch system that can improve their business with easy-to-use software, personalized apps, and 24/7 support.
"From experience and feedback from existing customers, we know that our product is a really good fit in Canada. By adapting the system to the new tax regulations and being able to offer it at a competitive price, I'm confident that we will become a significant player in this region." Camilla Birkehorn, Marketing Director
About TaxiCaller
TaxiCaller was launched in 2011 by Swedish engineers with a dream of changing the transportation industry. Over 10 years later, they have a foothold in 70 countries, and transportation businesses are using the software to support their businesses in every continent in the world.
Read more about TaxiCaller here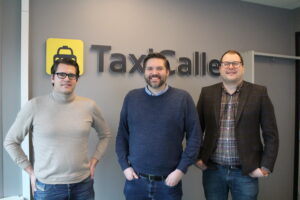 Parts of the TaxiCaller Management Team: Lauri Piitulainen, CFO; Eero Piitulainen, CEO; Johan Wålander, Sales Director