Out of 73 applications to IndX2020, 10 ideas were choosen which on Monday resulted in five financed proof of concept studies. The four industrial corporates behind the initiative IndX2020; Siemens Energy, Saab Aeronautics, Toyota Material Handling and Väderstad, all agree IndX2020 is already a great success.
We are very happy with the outcome of this event. We've already learnt a lot, and now we are excited to see what the PoC projects we engaged in will result in.

Johan von Mecklenburg, CTO at Väderstad.
The initiative was launched in August. The four companies have joined forces to attract talent and startups to East Sweden, to strengthen the innovation eco-system of smart industry as well as the competitiveness of the participating corporates. A Pitch Day were held in October, and after that followed a week of generating ideas among the employees inside the corporates, who got to co-create new solutions based on the startups presentations using Linköping startup Svava and their ideation platform.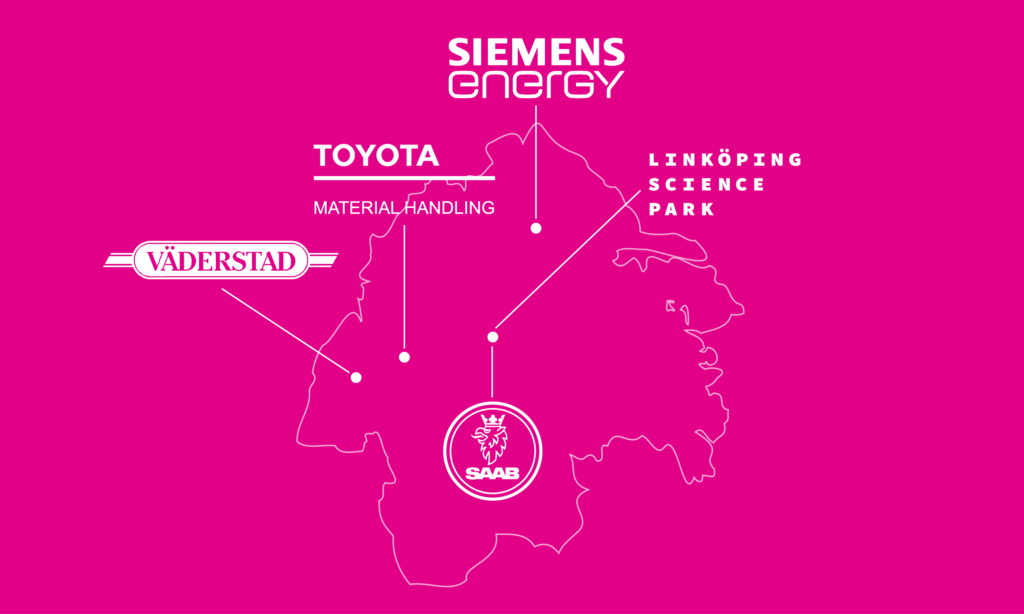 Väderstad joined the cooperation to find new solutions and to accelerate innovation. After the PoC Pitch Day, they decided to engage in two Proof of Concept projects; one together with Glana Sensor, which aims to increase the precision of an agricultural machine using smart sensor technology – and one with T&S Engineering Intelligence, which focuses on automatic quality and geometry reviews of drawings and models by using AI. The last one is a joint PoC project with Saab and Siemens Energy.
Kicking of IndX2020, we said it was a success if every company would launch at least one PoC each – and if we would find one or two joint projects that would be a great bonus. Summarizing this process, we note that three out of five projects are joint ones. That is a great outcome! Besides the T&S, Siemens Energy have joined two more projects; Gleechi and Voysys.

Thomas Wiktorsson, CTO at Siemens Energy
Hans Larsson, Director Strategic Innovation at Toyota Material Handling, agrees the result so far is promising.
We have chosen one projects to invest in; Voysys, who offers a solution for remote operation of equipment. We also have a potential project that we are interested to proceed with, so we will continue discussing with at least one more of the pithing startup companies.

Hans Larsson, Director Strategic Innovation Toyota Material Handling
For Saab, the IndX process have meant contacts with startups offering solutions that meet actual current needs.
We are building a new plant in the US. We have a challenge in training new employees on site and for many to travel to Sweden is not feasible. Through a solution from Gleechi, we will test remote training of employees in assembly. In an additional project, Saab will explore AI/ML solutions for automated route planning together with Dyno Robotics.

Torbjörn Kvist, Innovation Manager, Saab Aeronautics
A total of 73 applications came in from our call in September. Only 10 were selected.
We see a huge potential in growing the innovation eco-system around smart industry by continuous discussions with both startups that were selected for this process, but also the one who were not. We are very committed to strengthening the deep-tech region of East Sweden.

Inger Stern, project manager for IndX 2020 at Linköping Science Park
What will happen next. Besides going through with the launched PoC:s, the four companies all agree this process will continue.
We see this as a first step to form a long-term platform for open innovation in East Sweden, The future looks bright.

Johan von Mecklenburg, CTO at Väderstad.