Kungsgatan is one of the central arteries cutting through the city of Norrköping.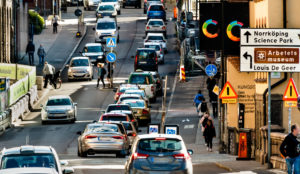 Host of Campus Norrköping, Visualiseringscenter C, schools, civil services, and multiple and varied businesses it presents a large front of challenges and opportunities for the city planners, and its many and diverse users. Developing a digital twin of Kungsgatan can enable a better understanding of how people use the street and the effect of the ongoing or planned activities. However, this poses a technical challenge in itself that revolves around monitoring and modeling. The webinar Testbed Kungsgatan addresses this challenge, taking the lab out in the street. This talk aims to present what we plan to deliver and how we are working towards it.
Vangelis Angelakis, Associate Professor, Department of Science and Technology, LiU. His research interests revolve around design of telecommunication systems and network resource optimization with a focus on IoT and Smart City applications.
Welcome!
Link to webinar sent after registration. To participate in the webinar, a free Zoom account is required. Please download either by using Zoom's website or the Zoom app.