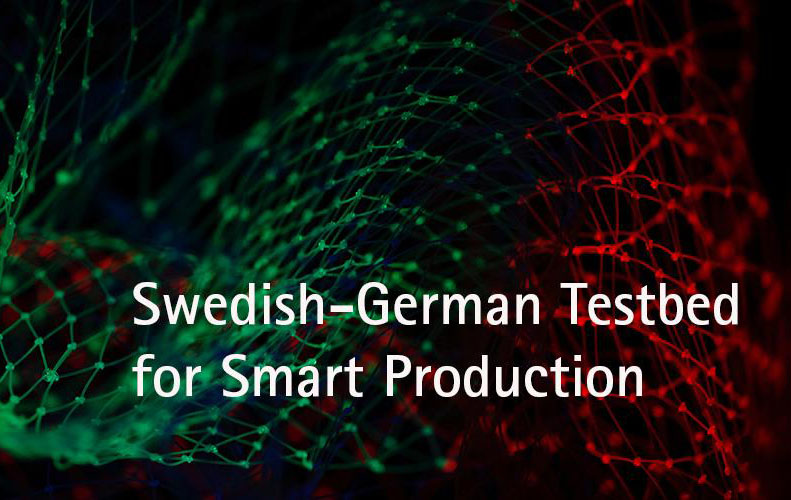 Webbinarium: Testbäddar för Industri 4.0 – hur kan de nyttjas av tillverkningsföretag?
Sign up is closed
Testbäddar för Industri 4.0 och smart produktion står i fokus för det tysk-svenska innovationspartnerskapet som undertecknades av de båda regeringarna 2017. Varmt välkommen att ta del av resultatet!
Inom ramen för partnerskapet har Kungliga tekniska högskolan (KTH) och tyska Fraunhofer skapat Swedish-German Testbed for Smart Production. Denna består av digitalt sammanlänkande verktygsmaskiner som erbjuder en unik test- och valideringsplattform av teknik inom Industri 4.0 och smart produktion. Plattformen möjliggör tillverkning på olika geografiska tillverkningsorter. Testbädden vänder sig särskilt till små och medelstora företag som har ett nära samarbete med OEM:er och till andra internationellt verksamma företag.
Hur ser resultatet av det tysk-svenska samarbetet ut? Vilka lärdomar har dragits och hur kan tillverkningsföretag använda sig av testbädden? KTH, Fraunhofer och Tysk-Svenska Handelskammaren bjuder in till ett webbinarium som sätter ljus på resultaten av projektet och tillämpningsexempel. En panel med företrädare från industri, forskning och politik diskuterar hur testbädden nu ska kunna nyttjas till sin fulla potential.
För vem
Webbinariet hålls på engelska och riktar sig till produktions- och utvecklingsansvariga på tyska och svenska industriföretag samt tillverkare av IT-lösningar.
Program
10.00 Introduktion
10.10 Swedish-German Testbed for Smart Production
10.25 Tillämpningsexempel
10.45 Paneldiskussion
11.20 Q&A
11.30 Webbinariet avrundas
Bland talarna
Martin Friis, National Coordinator Testbed Smart Production, Produktion2030, Teknikföretagen
Jannik Henser, Managing Director, Powertrain Manufacturing for Heavy Vehicles (PMH) Application Lab
Niels König, Manager Production Measurement Technique, Fraunhofer
Cecilia A Nilsson, koordinator för det tysk-svenska innovationspartnerskapet, Näringsdepartementet
Hans Olofsson, Senior Manager, Industrial IT, Scania CV AB
Moderator är Ninni Löwgren Tischer, affärsområdeschef på Tysk-Svenska Handelskammaren och ansvarig för bilaterala innovationsplattformen German Swedish Tech Forum.
Tillämpningsexempel
Sandvik Coromant: "SEP CoroPlus®"
Fraunhofer Institute for Production Technology IPT: "Production Cockpit and Machine Connection"
PMH Application Lab: "Virtual Fort Knox"
Fraunhofer Institute for Machine Tools and Forming Technology IWU: tba
Övrigt
Deltagandet är kostnadsfritt.

Mer information om webbinariet hittar du på vår hemsida.