Attentec delivers soloutions specializing on the Internet of Things, streaming media, and modern software development.
Contact
Anders Weiland
013-13 34 50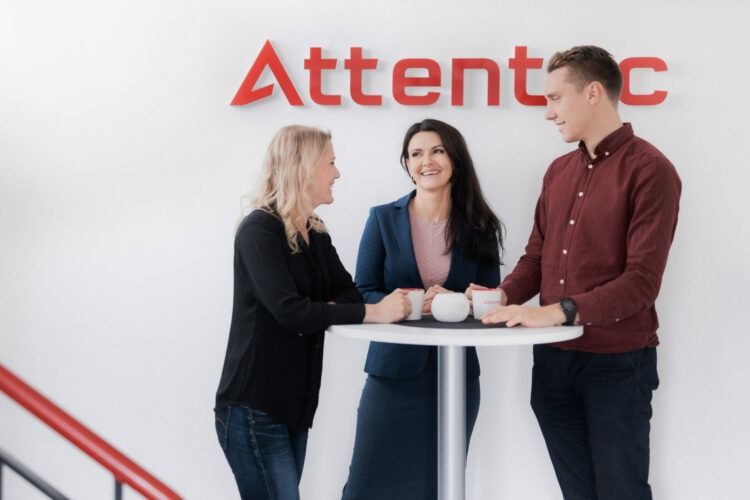 Vi skapar affärsnytta med internet of things
Som oberoende experter på IoT hjälper Attentec er att välja och utveckla rätt IoT-lösning som gör era processer, produkter och erbjudanden bättre och mer konkurrenskraftiga.
Vårt mål är att vara den bästa arbetsplatsen för engagerade och innovativa utvecklare.
Vårt varför
Vi älskar att utmana oss själva och våra kunder för att få människor och företag att växa.
Vår affärsidé
Attentec är en expertkonsult och lösningsleverantör specialiserad på internet of things.
Våra kunder är företag och organisationer i Norden.
Attentec är ett Great Place to Work®
Vi har alltid strävat efter att vara en av de bästa arbetsplatserna för engagerade människor. Attentec vill vara en arbetsgivare som ger våra medarbetare möjlighet att utvecklas och trivas på sin arbetsplats och som samtidigt hjälper våra kunder på ett sådant sätt att de kan bli världsledande med innovativ teknik.
Därför var vi med i utvärdering av "Sveriges bästa arbetsplatser" och blev certifierade som ett Great Place To Work® vilket glädjer oss enormt.
På Attentec har vi en företagskultur som vi är stolta över.  Våra ledord är "Engagemang och resultat". Denna devis ligger till grund och ska vara vägledande för vårt sätt att vara mot varandra, våra kunder och samarbetspartners.
Vi växer och vill bli fler! Kolla in våra lediga tjänster här!