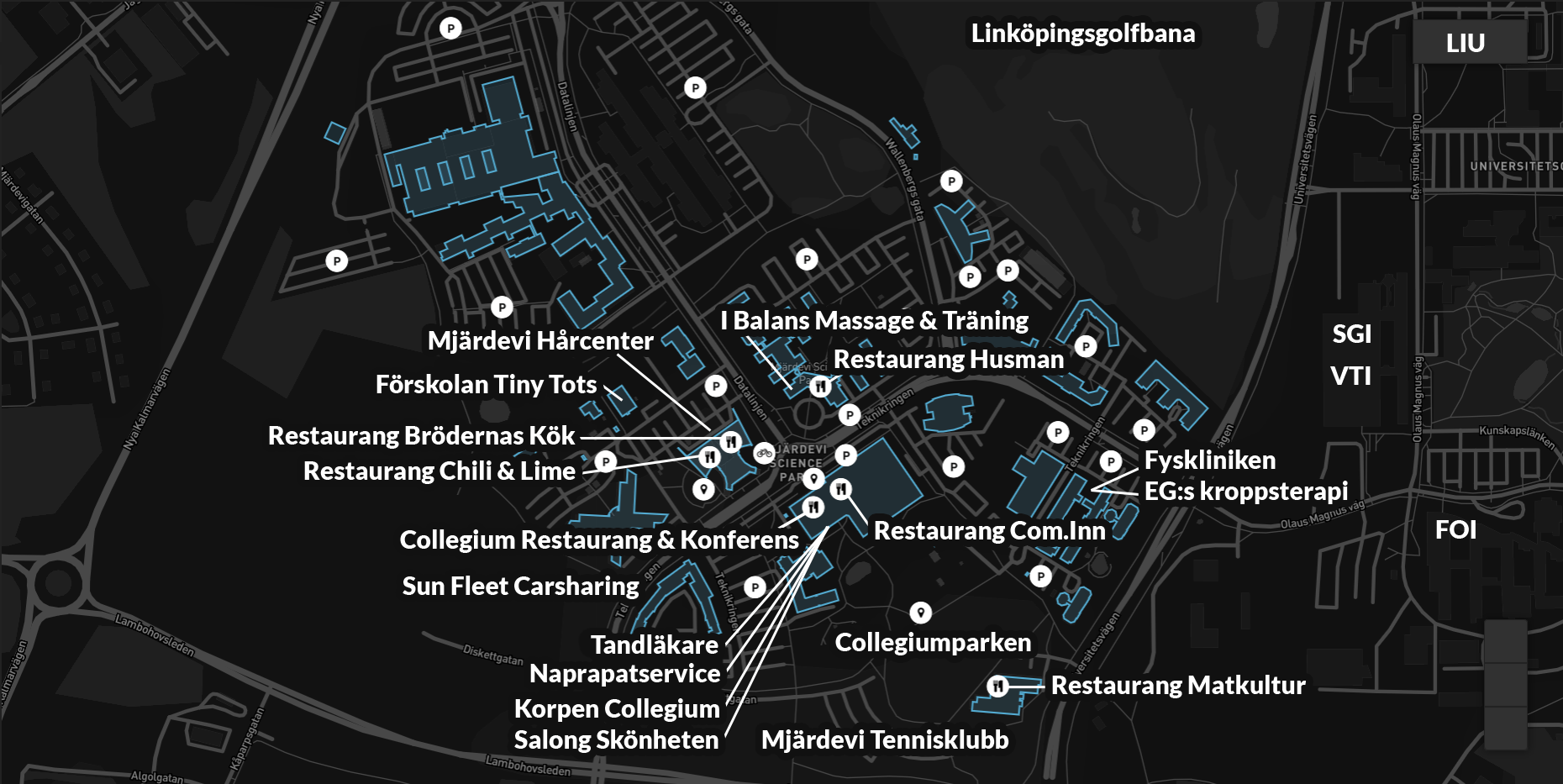 [HG] Ryds Herrgård
Ryds Herrgård eller [hg] som vi kallas för är ett av fem kårhus vid Linköpings universitet.  Det är en spännande miljö som väntar dig på Ryds Herrgård. En gammal herrgård från 1720-talet
Read more
Advokat24
advokat24 is a new modern law firm that provides qualified business advice to Swedish and foreign companies, on domestic and cross-border issues
Read more
Collegium Restaurang & Konferens
Fyskliniken
sjukgymnastik & träning/gym
Read more
I Balans Massage & Träning - Entré 8C
Korpen Collegium Sport Center
Korpen Collegium offers a gym, training in groups, and sport halls. Korpen has 4 sport halls that can be used to practice soccer, floorball, handball, volleyball, badminton, pingpong etc.
Read more
Naprapat Service
Naprapath service in Mjärdevi.
Read more
Restaurang Husman
Restaurant serving classic Swedish food.
Read more
Scandic Väst
Sätt dig till bords i vår ombonade restaurang eller slå dig ner i en mjuk fåtölj framför tv:n och njut av den goda maten. Om du bara är törstig finns öl, vin och andra läskande drycker i vå
Read more
Science Park Mjärdevi AB
Science Park Mjärdevi AB is a municipally-owned company which is committed to offering the best conditions for growth for innovative enterprises and development environments in Linköping through uni
Read more
Statens geotekniska institut, SGI
Tiny Tots Förskolan
Tiny Tots is a preschool in Mjärdevi.
Read more
Torget i Vallastaden
Öppettider Måndag – Fredag: 07.00 – 22.00 Lördag: 10.00 – 22.00 Söndag: Stängt
Read more